Free delivery is for orders over £120.00 plus vat only. All UK orders are sent via Royal Mail or a specialist Courier company and in most cases will require a signature on delivery.
Small items should arrive within 48 hours of ordering, however larger items, such as Basketball Units, will take 96 hours, but can take up to 10 days for some of the larger specialist items such as Inground posts. Overnight deliveries can be arranged on some products but this will usually incur an additional cost regardless of total goods cost. Saturday deliveries WILL cost more as most companies only operate a specialist service on Saturday mornings.
You will be notified of actual delivery period when placing your order.
Items made to order, such as kits or specialist equipment, can take up to 6 weeks at peak times. These items must be paid for at time of ordering.
Plain Import kits currently take 10-14 days for delivery.
Installation services are arranged for a specific date in consultation with the customer.
Next day deliveries are available but may cost more. Please contact us if you require more information as these deliveries must be booked before 11am on the day of dispatch.
This applies on orders made Monday to Friday, except bank holidays or public holidays.
Orders made on a Friday after 11am and over the weekend cannot be processed until Monday, therefore orders created on a Saturday or Sunday will be sent for dispatch on the next working day (Monday) and be delivered as soon as possible afterwards.
Some places, such as Northern Ireland, Eire, the Channel Islands, Isle of Man, Isle of Wight, South West UK and postcodes north of AB30 (Aberdeen) take longer to deliver to, and may incur additional charges. Please bear this in mind when ordering. A quote can be obtained prior to ordering for these areas as can deliveries to the EU. The free delivery option over £120 is not available under these conditions on deliveries to these places. Some heavy items such as Football Goals and Basketball Units, shipped direct from factory, are also liable to delivery charges due to their weight. Delivery of these items may also take up to 4 weeks depending on availability.
When we deliver your item the courier will require a signature to confirm receipt, therefore someone will need to be at the delivery address on the delivery day.
Normally the courier will leave a card if no-one is present at time of delivery and you will then need to contact them to re-arrange a convenient time with them. Goods not delivered within 5 working days, without contact from customer, will be returned to the supply warehouse and you will then be responsible for any additional carriage charges for re-delivery or return.
If you have not received your order, within 3 working days, unless otherwise notified at time of ordering, please contact us quoting your relevant details so that we can trace the problem and correct it. Couriers will not accept liability for parcels after 7 working days and therefore we cannot accept responsibility for missing goods if we are not notified in time.
International Shipping can be provided on request and is subject to additional shipping charges and the goods required. We will find the cheapest shipping method for the goods you request (usually Royal Mail/Postal Services) and notify you of the cost plus estimated delivery time, subject to local postal services. Please note that these charges must be paid prior to shipping and once goods leave the UK they are not covered by UK postal service compensation regulations therefore additional insurance is sometimes required.
We use these trusted brands for our delivery service:

DHL International express mail service a Deutsche company for Post DHL. The company delivers over 1.3 billion parcels per year.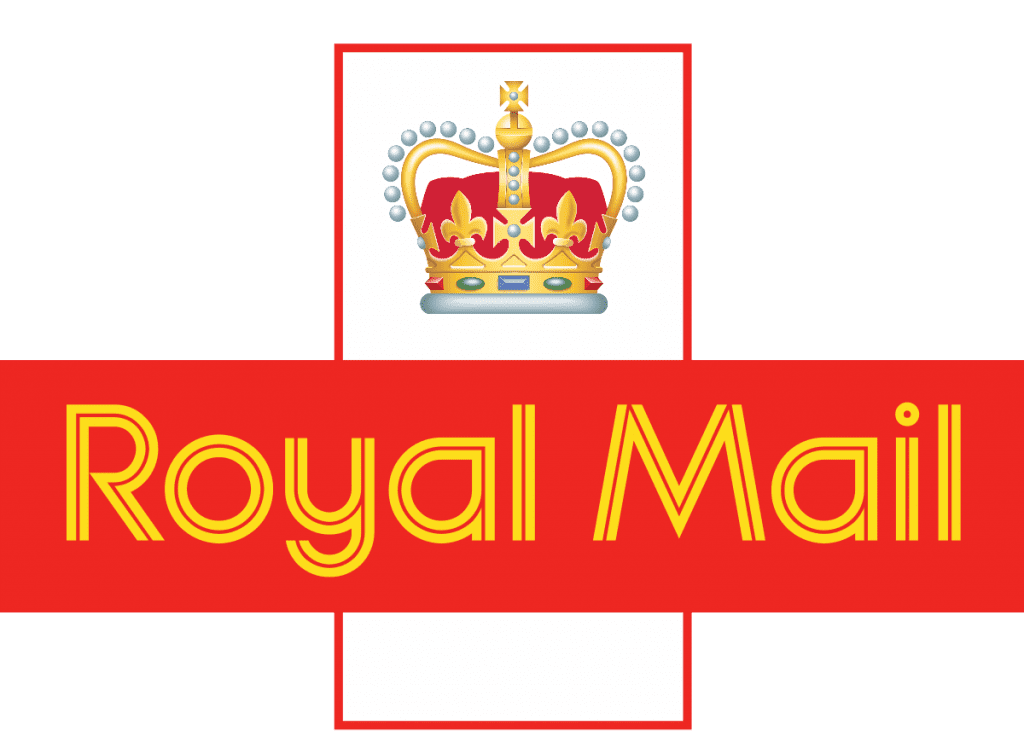 Royal Mail Group plc is a British postal service and courier company, originally established in 1516 as a department of the English government. The company's subsidiary Royal Mail Group Limited operates the brands Royal Mail and Parcelforce Worldwide.