Basketball shooting machine or basketball passing machine is an automatic rebounder. These ball machines rebound and pass back both made and missed shots, which help basketball players to get up more shots in less time. S6839 is the top model of SIBOASI indoor basketball training machines, 5 pre-set programs and 17 optional locations displayed on the LED panel allow you to work on your game alone much easier on the half court from any spot. S6839 is the ultimate solution for progressive basketball coaches and players to get quality workouts at any time. The number of increased repetitions a team can get when utilizing a basketball automatic shooting machine is undeniably very valuable.
1. Computer programming, storage memory, boot automatically locate the origin;
2.Five kinds of fixed model to shooting 3.The data and display clear function 4.Fixed point and horizontal functions
5.1-17 points synchronized on LED display when serving
6.Serve a variety of functions: work / pause, speed adjustment, 1-17 fix point, 1-17 cycle points, 1-17-point or multi-point any particular programming tee times, five kinds of fixed procedures tee ;
7.Set goals and machine ball circle the number that tee shot calculation program, LED display goals, serve several shooting data; 8.Circulation systems, and can be recycled a ball;
9.Pitching Machine transmitter placement: fixed to 180 degrees azimuth.
| | | | |
| --- | --- | --- | --- |
| Speed | 20-140KM/H | Ball Capacity | 5Balls |
| Ball Interval | 2.6-4.5S | Weight | 123KG/271.2LB |
| Package Size | 105*80*185CM | Warranty | 2 years |
| Power | 280W | Voltage | AC Power 110/220V |
Intelligent Shot Counter:
With the high precision sensors of S6839, your data: shot attempts and makes along with the shooting percentage can be 100% accurately counted and displayed on the machine, allowing you to track the stats for specific training.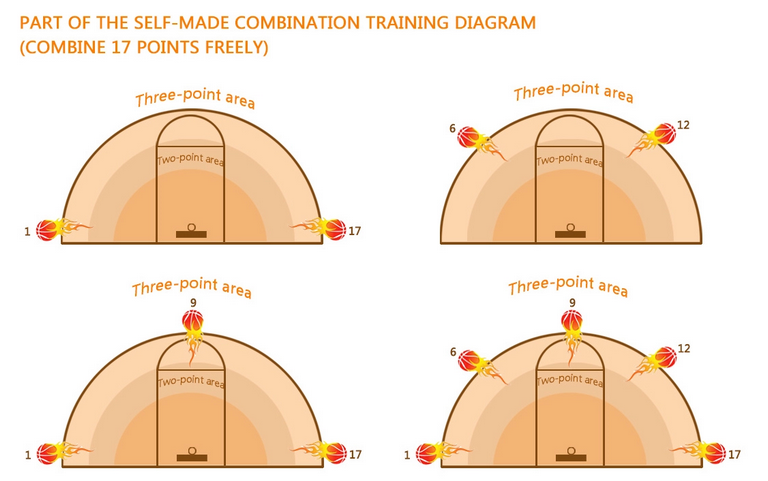 Easy installation:
With the humanize-designed circulating net system, the whole installation process can be done within 20 seconds.
Drills-programming:
1-17 spots can be selected from the half court, working with the circulating system, more than 1 player can carry out drills at the same time. Coaches can program drills with particular purpose for the player to excute. S6839 serves as a rebounder or passer for these drills, just like a teammate helping the others to improve. The coaches don't need to rebound or pass the ball, they can more focus on oberseving the practice and correcting the players. Rather than a basketball shooting return machine, S6839 plays the role more like an assistant coach!
Ball Serving Adjustments:
With the adjustable throwing wheels, different speed and intensity of ball serving can be realized on the machine.The serving distances range from underneath the basket to beyond the arc, which allows to work on your shooting at any spot.In additional, by changing the serving height and frequency, the machine will simulate live game situations with different angles and drop points to practice your movement and shooting form in a real game.The machine will be a game-changer and vital to accelerating development.